By Jonathon Van Maren
According to news reports, pro-life and conservative mother of seven Amy Coney Barrett is Donald Trump's Supreme Court nominee to fill Ruth Bader Ginsburg's seat. Barrett has been a longtime favorite of the pro-life movement, and almost every pro-life leader I know was hoping she would be the choice. It is significant that Trump called the Susan B. Anthony List, America's most powerful political pro-life group, to ask what their preference was rather than simply calling the Federalist Society. It is undeniable that if Barrett is confirmed, the balance of power on the Court will shift definitively to the Right. (She has said that abortion is "always immoral.") Like clockwork, the Left is doing everything they can to smear her.
The first salvo launched at Barrett was almost beyond parody: The Left accused her of being a member of a religious group that served as the inspiration for Margaret Atwood's A Handmaid's Tale (which in turn inspired a TV show that prominently features sexual violence against women, which has inspired abortion activists to routinely protest pro-lifers wearing the signature red dress and white bonnet of Atwood's sex slaves.) As one wag on Twitter noted, his favorite part of A Handmaid's Tale "is where a mother of 7 moves her family across the country to peruse her career interests as her husband follows her and takes care of the kids." But Democrats cannot help themselves, and it is obvious that attacks on Barrett's Catholic faith be prominent in the upcoming hearings.
Over in The Atlantic, Caitlin Flanagan savaged the media for thus far failing the "Amy Coney Barrett" test and beclowning themselves:
I came across a Newsweek story illustrated with a photograph of women wearing the now-familiar red capes with white-trimmed hoods—the universal symbol for female oppression of the most hideous kind. The headline read, "How Amy Coney Barrett's People of Praise Group Inspired 'The Handmaid's Tale.'"
That can't possibly be true, I said to myself, and of course it's not true. By the next morning, the newsmagazine had appended a correction:
Correction: This article's headline originally stated that People of Praise inspired 'The Handmaid's Tale'. The book's author, Margaret Atwood, has never specifically mentioned the group as being the inspiration for her work. A New Yorker profile of the author from 2017 mentions a newspaper clipping as part of her research for the book of a different charismatic Catholic group, People of Hope. Newsweek regrets the error.
In journalism, there's a name for this kind of correction. It's called a bullshit correction. The only person who did her job correctly was the headline writer, who accurately condensed the thesis of the piece into a phrase. The mistakes were layered into the article itself, which Newsweek altered without calling the changes to the reader's attention. There is a name for this, too, but I won't repeat it here. The whole thing was a cupcake-size version of the Covington disaster, in which liberal journalists were so willfully blind to their own deep biases that they smeared an adolescent who was guilty only of smiling in an enigmatic and uncomfortable way.
Times are hard and talent is expensive, but the mistakes in this piece were so obvious that we may only ascribe them to rank incompetence. That such a calumny should have been based on one reporter's misreading of a New Yorker profile in which the subject "mentions" a "newspaper clipping" about an entirely different religious group being "a part"—and not the whole—of her "research" means you're in uncharted territory. I myself have traveled this unmapped region, because I used to teach seventh-grade English; that is, I am familiar with the challenge of supporting a strongly held claim with weakly grasped nonfacts.
Barrett is a nightmare scenario for Democrats, because unlike with Kavanaugh and Thomas, they cannot simply accuse her of sexual assault and turn the confirmation hearings into a circus of "he said she said" (at least, I think they can't) Barrett is young–only 48–and thus could serve on the Court into the 2060s. The Democrats also know that if Roe is overturned, Barrett would likely author the decision. And so article after article is coming out saying that she is an "extremist," that her religious views should be scrutinized carefully, and essentially asserting that her faith renders her ineligible to sit on the Court. It's a risky game they're playing, especially since Biden plays at being Catholic, but they don't have much else to throw at her at the moment.
Unless, of course, they want to play really, really ugly–and go after her children, as one Democratic staffer suggested on Twitter: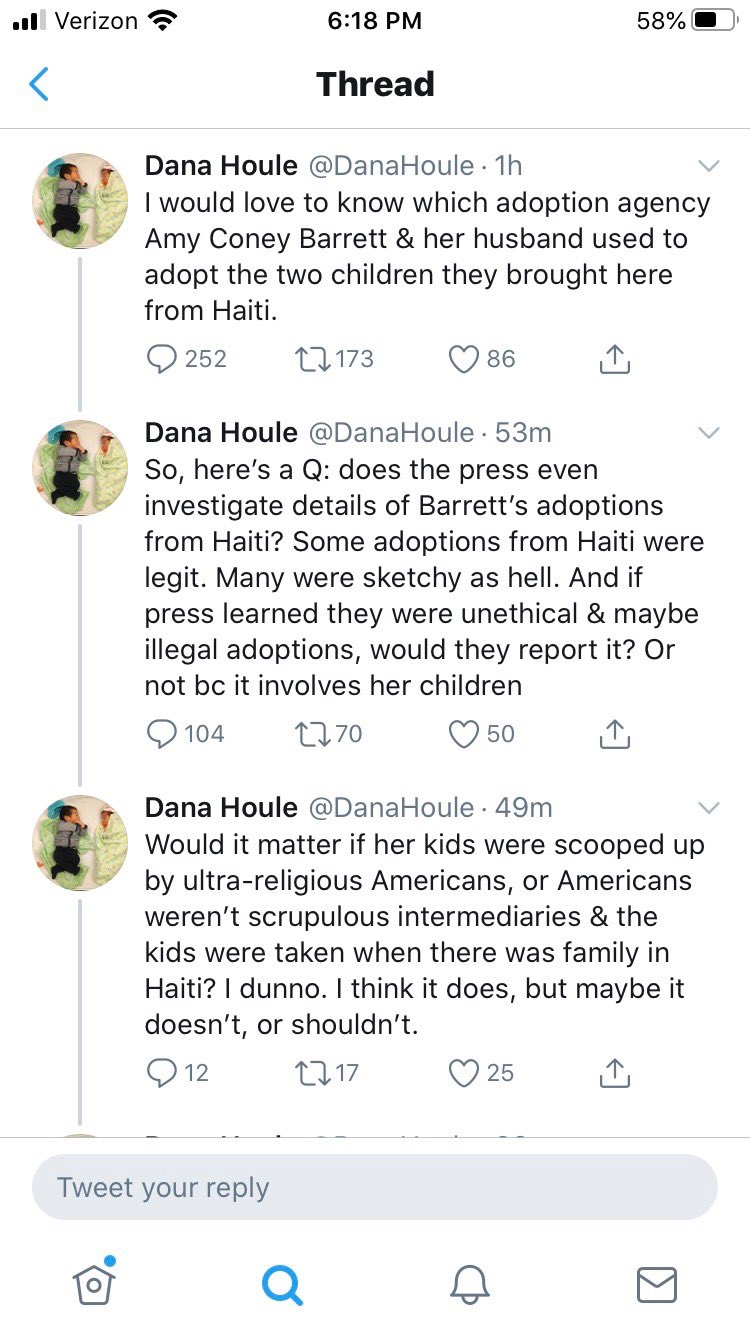 The staffer is trying to backtrack already and insist that these questions are all very reasonable, but you can see where this is headed. If Barrett isn't vulnerable to personal accusations, perhaps her family might be. Senator Josh Hawley and others have already responded, noting that if this is the game that Democrats want to play, they're in for the fight of their lives. The Democrats may not realize the extent to which the Kavanaugh hearings have radicalized the Right–if they continue to float lines of attack like this, they risk seeing Mitch McConnell take this straight to the senate for a vote and skip the hearings entirely. After all, the Democrats have turned hearings into a circus of smears, slander, and character assassination–why subject the nominee to all of that if you have the votes anyway?
The next several weeks are going to be very, very interesting. This time, the Republicans are ready for it.