By Jonathon Van Maren
As the longest election period in decades heats up, I've been hoping to make it to a few campaign events. It is, as the commentators never tire of pointing out, a once in a lifetime, completely unprecedented, wildly unpredictable election, with the plausible chance that any of the three major party leaders could become the Prime Minister of Canada. Fortunately, I live in Southern Ontario—and the NDP, Liberals, and Conservatives all know that they need to capture large portions of the Greater Toronto Area if they hope to form a government. Campaign events are easy to come by this summer.
When I signed up for the New Democratic Party campaign event featuring Thomas Mulcair in Brantford, Ontario, I got an email from "Tom" within fifteen minutes. He was glad to hear from me, was thrilled that I, too, wanted change in Ottawa, and wanted my input on what he could do in Ottawa to help me and mine. Impressive response time, I must say. His staffers must be on the ball.
Registering to go to a Conservative Party event is somewhat more difficult, especially since security around the Prime Minister has apparently doubled since the terrorist attack in Ottawa on October 20 of last year. When I signed up to attend a campaign stop with Stephen Harper in Hamilton, Ontario, I got a confirmation email from the Conservative Party of Canada that they had received my registration and reserved me a spot within the hour—but didn't tell me where the event was. Even a few hours before the event, I didn't even know where the event was to take place—I was just searching for a phone number online when an email came in, replete with a bar-coded e-ticket to gain admission to the campaign office of Member of Parliament David Sweet, where the event would be held.
When I got to the campaign office around 2:00 PM, there was a handful of protestors yelling and flapping signs outside. Most signs were demanding that we "Save Canada Post," while others asked "Why is our Prime Minister hiding from us?" They, apparently, had not registered on time, and thus were kept at bay as police officers ushered cars into the parking lot.
The campaign office was walled with signs for the various Conservative candidates—Al Miles, Vincent Samuel, David Sweet, Diane Bubanko—and filled with people eager to see the Prime Minister. We were all packed into a sweltering room in the back of the building, with various young families and an array of ethnic faces seated and standing behind the podium. Every so often an absurdly energetic campaign staffer would lead people in loud chants of Harper! Harper! while waving her arms around, which had the effect of moving the hot air around just slightly while adding to it substantially.
After about thirty minutes of this, Conservative candidate Vincent Samuel—a fine pro-life candidate—came out to welcome all the various dignitaries and dignified candidates, and then asked his daughter to sing the National Anthem. David Sweet then stood up, and to a roar of applause, ushered in Prime Minister Stephen Harper.
What struck me about Harper was how completely relaxed he was—especially considering some rather nasty polls that came out earlier in the day. He came in with his wife Laureen, shaking hands, smiling, and then as the cheering died down, a baby squawked from the sidelines. He grinned, wiped his brow, and nodded to the mother. "Yeah, it's really hot."
For all the tales of a rigid Harper trotting out bland talking points, the Prime Minister seemed to be in his element.
"Justin is just not ready," he said to cheers. Then he stopped and chuckled. "I think I've heard that somewhere. (The pervasiveness of the Tory attack ads is noticeable—outside, Harper supporters yelled, "Just not ready!" at the protestors, who retorted with a somewhat self-defeating, "Nice hair, though!")
One of the prevailing theories about Harper's decision to run in 2015 is that he wants to defeat—no, crush—the son of Pierre Trudeau. For a Conservative who loathes old man Trudeau's legacy, that makes a lot of sense. And while Harper took a few shots at Mulcair, it was Justin Trudeau that bore the brunt of his mockery. "Justin Trudeau thinks that budgets balance themselves," he said with a grin. And then, in a move that is already becoming a viral video clip online, he mocked Trudeau's new pronouncement that he would run a deficit for the first three years—"A teeny, tiny, modest little deficit." This was accompanied by a shot at Premier Kathleen Wynne, who is campaigning vigorously against him: "Just look at the mess in Ontario."
He did note, with a bemused look, that Thomas Mulcair had failed to correctly cite the tax rate to "our friends at the CBC." "That's NDP ideology," he pointed out to laughter and cheers, "They don't know what taxes you pay—but they know you're going to pay more." Conservatives know that the money belongs to the people, Harper added. But Trudeau and Mulcair accuse the Conservatives of robbing the taxpayer—for giving them back their own money! "Can you believe these guys?" he asked a crowd that, it turned out, could not.
The biggest cheers came when Harper talked about ISIS—and he was genuinely animated. He highlighted the various terrorist attacks around the world, and then, finger jabbing, stated, "Thank God we have the men and women willing to fight ISIS there!…They [Trudeau and Mulcair] won't even call jihadist terrorism what it is! If you cannot call jihadist terrorism what it is, then you cannot be trusted to confront it, and you cannot be trusted to keep this country safe."
The Prime Minister then ended with the statement that many hidden-agenda types are still positive is a sign of his yet-to-materialize social conservative master plan: "God bless all of you, and God bless Canada."
I was genuinely surprised by the stump speech. The talking points I'd been expecting—proven leadership, strong economic record, etc., etc. The levity I did not—Harper chuckled, made jokes, and rarely consulted the notes sitting on the lectern. A far cry from the wooden, harried, embattled leader I'd been reading about daily, anyhow.
Tom Mulcair's campaign stop was a different event entirely. I showed up at the Brantford Civic Centre around 6:30 PM, and the first person I saw was a Ukrainian Catholic deacon, standing at the entrance of the parking lot, holding a sign showing a seven-week-old aborted fetus. My colleagues from the Canadian Centre for Bio-Ethical Reform were also planning to set up signs and unfurl a banner around the event, so I was surprised to see him there. "Chretien, Rae, if they're pro-abortion, I picket them," he told me.
He soon had company, as my colleagues held up a huge banner with a ten-week-old aborted baby just off to the side of the open-air event. Campaign managers rushed to find people to hold up orange signs in an attempt to obscure the inconvenient view of the inconvenient human being whose death was an inconvenient thing to discuss at this particular moment. The campaign staff were wearing bright orange shirts with the slogan, "Orange is the New Brant" across the front, which I assume is a reference to the crude and explicit Netflix show, Orange is the New Black. A bit of an odd choice of slogan.
There was a pretty big crowd out, although I think (and my colleagues agreed) a far cry from the 6-700 people that NDP candidate Marc Laferriere claimed had shown up, to scattered applause. Then again, it turned out the campaign event was being live-streamed to the NDP's website, so such claims were probably important. There were a few reporters there, as well—CHCH, CBC, and I even bumped into Paul Wells of Maclean's Magazine weaving through the crowd.
At about 7:05, Linda Gretzky, MPP for Windsor West, came out to introduce about a half-dozen star NDP candidates. Marc Laferriere then took the stage—I realized that I had chatted with him earlier without realizing who he was—and began to thunder about the leadership of Tom Mulcair, who was going to "repair the damage Harper has done." Now, I have plenty of bones to pick with Mr. Harper myself, but I could help but notice that none of the damage that needed repairing was cited by Mr. Laferriere, either. Apparently the hellscape that Ottawa has been reduced to under the iron fist of Harper is so obvious, it doesn't need further elucidation.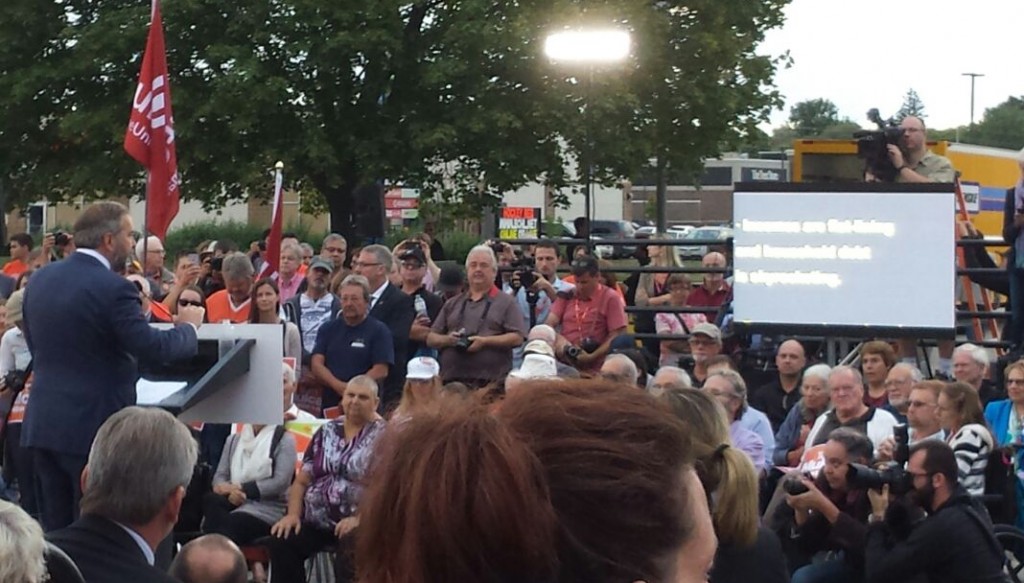 I was really looking forward to hearing Thomas Mulcair speak, as I've only ever heard him in the House of Commons—although that was the day he stood up to question whether or not the Parliament Hill shooter could really be called a terrorist—and never out on the stump. But the speech was a disappointment. Not in content, mind you—my own ideological bias obviously plays a part there—but when I realized, by walking behind the podium, that Mulcair was reading his speech, word for word, off of a teleprompter. With all the talk of Harper's rigid message control and inflexibility, I was pretty taken aback to see Mulcair giving a pretty standard campaign talk by reading it off a screen.
Mulcair, too, referred multiple times to the arduous task of "repairing the damage Harper has done" and taking back Canada from the Conservative robber barons. "When Stephen Harper announced that he was raising the age of retirement from 65 to 67," Mulcair purred, "Did he announce it to a group of rock miners in Sudbury? No. He announced it to a bunch of billionaires in the Swiss Alps." This earned him a round of half-hearted boos from the crowd. Justin Trudeau, aside from his ill-fated vote for Bill C-51, was only referred to as "the leader of the third party."
Mulcair's one rather overt deceit appeared was when he announced his plan to implement a 15-dollar-an-hour minimum wage—for federal employees. The provinces, he announced, would surely follow suit—"We want them to do what Rachel Notley's doing in Alberta." And then the rather deceptive statement: "Tell your friends, everybody. A 15-dollar-an-hour minimum wage is just one election away!" And for a moment, the same weird, frozen smile that blew up Twitter during the leader's debates showed up as he grinned at the crowd.
Tom Mulcair was at his best when he started talking about his family. "I'm the second of ten siblings," he said with a genuine smile—and then rattled off the names of his brothers and sisters to a ripple of laughter. He talked about working as a roofer through the hot Montreal summers to get through law school. "We worked hard and lived within our means," he said, sounding very conservative for a moment. With his backstory, it doesn't surprise me that he was in talks with the federal Conservative Party prior to joining Jack Layton's NDP.
With that, he waved himself off the stage to hit the crowd for dozens of Cheshire cat selfies, handshakes, and backslaps while We're All In This Together by the Sam Roberts Band blasted from huge speakers. I noted, with a bit of amusement, how awkward a number of the elderly men on the stage looked trying to clap and sway to music that was clearly not their forte. But they were part of the backdrop, the livestream was going, and the show must go on.
After all, the election is yet young, and there are seven weeks to go.